For Scholars
Cool Exercises
Reviews/Traffic
Legal/Privacy
THE TOP 100 SPEECHES is an index to and substantial database of full text transcriptions of the 100 most significant American political speeches of the 20th century, according to a list compiled by Professors Stephen E. Lucas and Martin J. Medhurst. Dr. Lucas is Evjue-Bascom Professor in the Humanities and Professor of Communication Arts at the University of Wisconsin at Madison. Dr. Medhurst is Distinguished Professor of Rhetoric and Communication at Baylor University (Texas). 137 leading scholars of American public address were asked to recommend speeches on the basis of social and political impact, and rhetorical artistry. Read the news release and an itemization of the published list for more information.
See also the Oxford University Press anthology by Lucas and Medhurst: Words of a Century: The Top 100 American Speeches, 1900-1999.
Hillary Clinton: Women's Rights-Human Rights
delivered 5 September 1995, Beijing, China
QUALITY ASSURANCE: A growing number of American Rhetoric's text holdings have been transcribed directly from audio or video recordings -- indicated by: [AUTHENTICITY CERTIFIED: Text version below transcribed directly from audio.] immediately before the actual speech text.
Through the transcription process, it has become evident that a number of speech texts found at other web locations bearing the same title/speaker contain various substantive and/or stylistic errors (e.g., omission, addition, false figuration). Similar errors may be found in some book volumes as well.
In more than a few cases, however, the differences are significant enough to raise questions of rhetorical legitimacy, since what was actually said clearly deviates from what has passed down to us as ostensibly what the immediate audience heard.
Be assured that where "AUTHENTICITY CERTIFIED" appears in one of American Rhetoric's text holdings, readers are guaranteed to find a text that is substantively and stylistically faithful to the speech as originally delivered.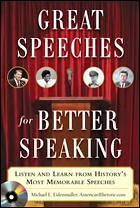 By Michael E. Eidenmuller, Founder, American Rhetoric [Available at Amazon.com]
Plug-in required for flash audio music intro
Mary Fisher: 1992 Republican National Convention Address